9 ways to compress MP4 video files (for Windows/Mac)
Because MP4 is compatible with all players and has good playback quality, it has become the most commonly used video file format, not one of them. However, the flaws of MP4 are also apparent, taking up a lot of storage space. Therefore, if you have a large number of MP4 format video files, you will be annoyed by your computer's increasingly limited memory space. Either delete old files to make room for new files or compress MP4 video files to accommodate all files. The latter, compressing MP4 video, is a better solution. The premise is that you need to have easy-to-use MP4 conversion and compression software. The following will guide you on how to compress MP4 video without loss of image quality.
To quickly compress MP4 videos for email sending or upload on short video platforms such as Douyin, you can first understand the brief operation of the third part (see below)
How to compress the size of the MP4 video?
Import MP4 video to Wondershare UniConverter.

Compress MP4 video by setting the resolution and other parameters.

Save the newly compressed MP4 video.
1. Three common application scenarios for compressing MP4 video
In addition to insufficient storage space on the hard drive and mobile phone, there are other situations where the size of MP4 video needs to be compressed. The following is the most common situation that everyone encounters.
MP4 videos that are too large are brutal to send via email and take a lot of time to add email attachments. Therefore, compressing the size of MP4 video will make it more convenient to send emails with videos.

Douyin is currently the most popular short video platform. Every day, a large number of Douyin bloggers share exciting and fun MP4 videos in life. If you also want to upload videos via Doujin, you need to compress the size of the video because too large files usually encounter errors when uploading. In addition, trim video files can be quickly shared with your friends on WeChat Moments, Weibo, and other social media.

If you want to transfer MP4 video to your mobile phone to watch, you need to find suitable video compression software and reduce the video resolution to fit the mobile phone screen. More extensive MP4 videos will not be displayed correctly on the phone, and the viewing experience will be significantly reduced.
2. How to compress MP4 video
After knowing the advantages of compressing MP4 video, then the question is: how to compress MP4 video?
Method 1: Convert MP4 to a video format that takes up less memory
One of the easiest and most direct ways to compress MP4 video is to convert it to a video format that takes up less memory. MP4 is a video format that takes up a lot of memory. To avoid this, you can convert it to a format that takes up less memory, such as WMV, FLV, etc. Below is a list of more recommended MP4 compression conversion formats. Related advantages and disadvantages are also listed so that you can make a better choice.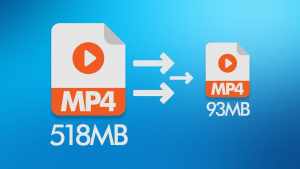 Table
| | | |
| --- | --- | --- |
| Video format | advantage | Disadvantage |
| FLV | A format is suitable for network video. When you need to upload files to the Web, you can use this format to compress MP4 video files. | Creating the FLV format is expensive and time-consuming. It takes a long time to access web pages using Flash. |
| AVI | This format is compatible with various media players and is the most common compression format with a codec array. | The format is too large to compress. |
| WMV | A format that occupies a small and explicit memory. Compared with MPEG-4, its compression rate is twice as high. This format is ideal when you need to save hard drive space or send videos via email. | The compatibility of this format is poor for non-Windows devices and platforms (such as iPad, iPhone, and other Apple products). |
| MKV | This is an open-source format with menus for audio tracks in different languages. | This format cannot be used universally on different devices and media players. It usually has a large file size of up to 40GB. |
Therefore, considering the above format table and its advantages and disadvantages, it can be concluded that WMV and FLV are formats that occupy a small amount of memory and can be considered for compressing MP4 video. You can use professional software such as Wondershare UniConverter or some free video converters to convert MP4 to WMV, FLV, or other formats.
Method 2: Adjust the parameter settings such as frame rate, bit rate, and resolution to compress MP4 video.
Another way to compress MP4 video is to adjust the parameter settings.
Adjust the bit rate: You can reduce the bit rate of the video file to compress its size. The code rate is proportional to the file size, so the smaller the code rate, the smaller the file memory. However, it should be noted that reducing the bitrate too much will reduce the video quality. Therefore, it is an excellent choice to reduce the bit rate by 20-30% of the original size.

Change the resolution of a file: The resolution of any file determines the size and quality of the file. High-resolution video files will have good picture quality, but video files will also be more significant. Therefore, you can use Wondershare UniConverter to reduce the resolution if you plan to compress video files. HD video like 1920 * 1080P can be reduced to 1280 X 720P, 640 X 480, 640 X 360, and other resolutions to compress the size of MP4. The most recommended resolution is 640 X 480 because it is compatible with many mobile devices (Android, iPhone, and iPad) and various popular websites, including Facebook, Vimeo, and YouTube.

Change the frame rate: When compressing the size of the MP4 file, you can also consider reducing the frame rate of the file. The frame rate is directly related to the file size, so reducing the frame rate will directly affect the file memory. The smaller the frame rate of the video, the smaller its file memory will be.
Suppose you consider preparing to compress MP4 files by adjusting the frame rate, bit rate, and resolution. In that case, the recommended settings for MP4 files on domestic long video platforms and short video platforms are listed below, taking Tencent Video and Douyin as examples.
Table
| | | |
| --- | --- | --- |
| parameter | Compression settings of Tencent Video | TikTok's compression settings |
| Video encoding | H.264 (small memory and high-quality video encoding settings) | H.264 |
| Bit rate | 800kbps (360p), 1500kbps (720p), 2500kbps (1080p) | Without clear instructions, the private recommendation is 9000-15000kbps |
| Resolution | 640×360 (360p), 960×540 (720p), 1920×1080 (1080p) | The resolution is 720p (1280×720) and above |
| Frame rate | No clear instructions. Just keep the original video frame rate | Without clear instructions, 24-25FPS is recommended by the private sector |
Method 3: Reduce the video duration to compress the video file
Another standard solution to compress the size of MP4 video is to trim and reduce its unwanted parts. If you have many MP4 clips, you can automatically reduce the file memory by deleting unnecessary clips and shortening the video time. A large number of video editing software and professional converter software on the market can help you complete editing and trimming tasks. Large files can also be divided into multiple small video clips to reduce their size.
3. The ultimate solution to compress MP4 video files with lossless image quality
No matter which method you want to use, a good tool can help you get twice the result with half the effort. If you want to compress MP4 video with lossless image quality, then the powerful Wondershare UniConverter, a tool for easy MP4 conversion and compression How to speed up computers for Windows/Mac. With Wondershare UniConverter, you can preview the video effect in real-time even when you adjust the video resolution, convert the video format, select the bit rate, customize the file size and other parameters. In addition, Wondershare UniConverter also provides other functions, such as video conversion, video editing, video burning, and video transmission, which can help you compress the size of MP4 videos better.
Wondershare UniConverter-a versatile video toolbox for Windows/Mac
Compress MP4 video size by real-time preview without loss of image quality to not affect the image quality.

Adjust the size of MP4 video by customizing the video size, resolution, bit rate, quality, and video format.

Support more than 1,000 video formats, including MP4 / MOV / MPEG / AVI / WMV for compression and conversion.

Edit MP4 videos with cropping, trimming, rotation, watermarking, effects, subtitles, and other functions.

Thirty times faster than any other video compressors and converters.

Support batch processing can compress and convert multiple videos at the same time.

A toolbox with full functions, such as screen recording, GIF animation production, audio, and video data repair, CD recording and ripping, VR video conversion, etc.

Supported operating systems: Windows 10/8/7/XP/Vista, macOS 10.15 (Catalina), 10.14, 10.13, 10.12, 10.11, 10.10, 10.9, etc.
How to use Wondershare UniConverter to compress MP4 video:
Step 1: Import MP4 video to Wondershare UniConverter.
After installing and running Wondershare UniConverter, click the " Add File " button to browse and select the MP4 video to be compressed. Alternatively, you can also drag and drop files into the main window.
Step 2: Select the output format and customize the parameters.
Click the drop-down icon of " Output Format: " and a list will pop up. Under the " Video " tab, select the MP4 format or the format you want to convert.
After selecting the output video format, you can find the compression icon on the " Target File Information " tab.  Then click to open the video compression window, drag the progress bar to change the video size, video resolution, bit rate, and quality. Click the " Preview " button to preview the video for 20 seconds. Click the " OK " button to confirm the video resizing settings.
Step 3: Save the newly compressed MP4 video.
You can add multiple videos and customize the compression settings one-to-one. Finally, click the " Convert All " button to compress the MP4 video size into batches.
4. How to compress MP4 video online
If you are looking for an easy way to compress MP4 videos online without downloading and installing them, then Wondershare Youzhuan Online is your best choice. It has online conversion and online compression functions to help you compress MP4 file sizes by converting formats, changing video resolutions, and customizing file sizes. What's more surprising is that the How to overclock GPU online version of Wanxing You Zhuan has no watermark and no ads. You can complete the compression process in 3 simple steps.
Step 1: Open the Wondershare Youzhuan online version in your browser, and you will enter the interface for adding videos. Click the + icon to add MP4 video on the computer.
Step 2: After adding MP4 video, select " Resolution, "Output Size," and " Output Format " from the options.
Step 3: Click the " Compress " button to start compressing MP4 videos easily and quickly. After compression, you can click the " Download " button to download the file.
5. 4 free video compression software, suitable for MP4, MOV, AVI, and other video file formats
If you are considering using free video compression software to compress MP4 and other files, don't miss the following four recommended tools for Windows/Mac.
1. The best solution for free compression of MP4 video: Wondershare UniConverter Free Edition
Wanxing Youzhu Free Edition is a free version of the recommended MP4 conversion and compression software Wanxing Youzhu. Its interface and functions are similar to the full version. It also supports more than 1,000 video and audio formats, and you can compress MP4 videos with lossless image quality. Adjust and modify the video resolution, bit rate, file size format, and other parameters arbitrarily. But like most free software, there will be a watermark on the output video.
2. Free video compression Mac software: HandBrake
HandBrake is a video compression software for Mac systems that can compress MP4 video and other file formats. The software can adjust parameters such as frame rate, bit rate, resolution, etc., to efficiently compress the video size.
3. Free Windows video compression tool: Windows Movie Maker
For Windows users, Windows Moviemaker is an excellent MP4 compressor. The software can compress MP4 video by selecting the size of the completed video. The software interface is refreshing and supports multiple formats, such as WMV, MPEG, H264, MP3, AVI, MOV, and WMA formats.
4. Free MP4 compression software for Mac users: iMovie
Apple's iMovie is another video compression tool,   External GPU for laptop Mac can compress different file formats, including MP4, AVI, MOV, and MKV. Compress the target file by changing the frame rate, bit rate, output format, and resolution.
In conclusion
No matter which way the final choice to compressed MP4 video files, Wanxing excellent turn to see the full-featured solution, you definitely should not miss. You can free download experience the thrill of unprecedented video compression.