Your Adai Recipe Guide Is Here! The Best Adai Dosa Recipe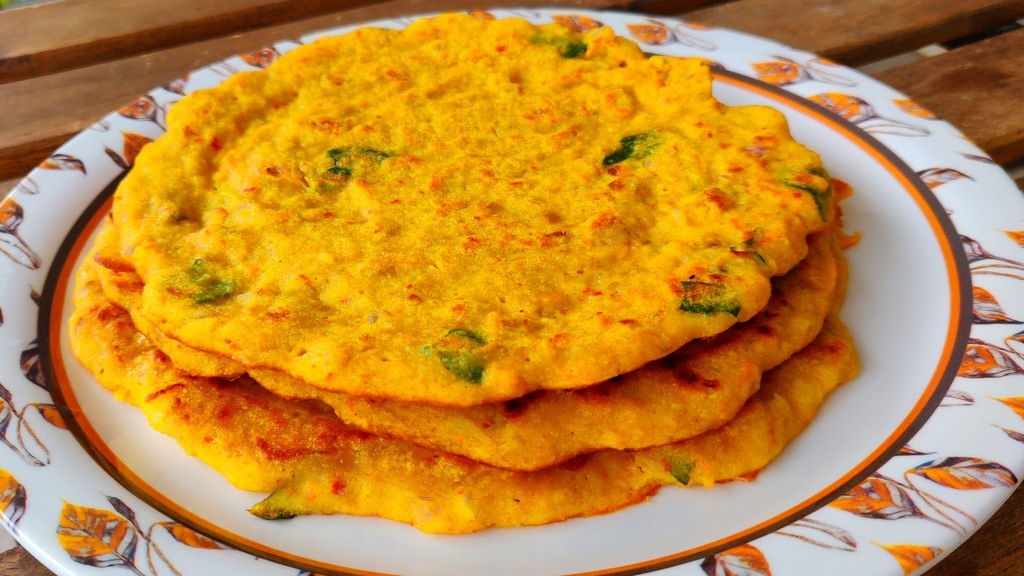 Do you love Tamil Nadu cuisine? Most of the dishes from Tamilnadu cuisines are world-famous. People are crazy for idlis, dosas, Mendu Vadas, and much more firm Tamil cuisine. When it comes to dosa, what about Adai Dosa? Did you try Adai Recipe at your home? You may need a proper guide tutorial for that. You require ingredients like rice, spices, and various lentils like Toor Dal, Chana Dal, and Urad Dal. Adai Dosa is a super delicious and flavored dish that is blessings for your breakfast and meals. You can serve your guests, friends, or family Adai Dosa with chutney, Avial, or mixed vegetables.
Do you know it's easy to make Adai Dosa, and the recipe is quick? Let us discuss how you can prepare this dish.
What Is Adai Recipe?
Adai Dosa is a type of dosa that includes Chana Dal, Rice, Toor Dal, a little Urad Dal, and sometimes Moong Dal as the main ingredients. Rice helps prepare crispy dosas. The lentils help get flavors. Other general ingredients like Hing, Cumin Seeds, Red Chilies, other Ginger are used for flavors and spice. Of course, you must add all of them. Otherwise, the recipe won't get its signature taste. If you have visited Tamil Cuisines, you might have seen that they've different recipes with different ingredients and proportions of rice and lentils.
Our Adai Dosa Guide:
In this recipe, we have used a small proportion of Urad Dal and Moong Dal. They improve the flavor. This Adai Dosa Recipe comes from traditional South Indian Cuisine. Have you tasted a South Indian Savoury Pan Cake? We make it with a combination of lentils and spices. This dish is protein-rich and super healthy. You can break your fast in the morning with coconut chutney and this pancake. The traditional dosa is thinner and has rice and urad dal as the main ingredients. However, this recipe includes lentils and spices and has a heavier texture.
Combining various lentils like Urad Dal, Chana Dal, Toor Dal, and Moong Dal creates the best batter. You have to soak and ground these lentils to make the batter. We all use Jaggery and Red Chilies to add sweetness and spice to the batter.
The Best Way To Serve Adai Dosa:
Once you know how to make the best Adai Recipe, you may think about how to serve as a chef. However, the traditional way to serve Adai Dosa is with coconut and vegetables. It makes the classical combo of Indian breakfast the best meal of the day. Either you can use coconut chutney or peanut chutney.
Is This Recipe Simple?
Do you know this Adai Recipe is the easiest way for Adai Dosa? There is no need to worry about whether you can make it or not. Of course, you can make it chef-level. Still, if you are a beginner or trying this recipe for the first time, let's discuss the following things.
You can quickly eliminate one of the lentils we have discussed. Hence, you can try different flavors and textures.

If you skip Toor Dal and try other lentils, you may still get the same taste as before.

You cannot forget the best Adai Dosa is made from thick batter. However, the process is the same as pouring on the pan.

If you want it spicier, you can use Gaelic Fennel and coriander leaves for flavors and spices.

If you are trying this recipe for the first time, you can go with the exact process that we have explained below. Once you think you're ready to experiment, you can do some.
The Batter Is The Real Magic:
Did you see how chefs who make dosa use the batter? It almost looks the same as other places, right? No! Of course, it appears the same, but the look doesn't make good sense at all. What you need to know is the texture of the batter, consistency, and the time you allow it for fermentation matter more than looks. Therefore, we have given the best way to make Adai Recipe batter quickly and perfectly. Here is what you should keep in mind about this batter.
The making of the Adai Dosa Recipe starts with soaking rice, lentils, and chilies for four hours. After that, you must ground it in a thick and coarse batter. You can use it spontaneously, but you can let it rest for two to four hours for better flavors. What we do here is soak, blend, and let the batter rest before use. However, you can keep it in the fridge overnight for the morning breakfast. You can also use batter without letting it rest. Just soak it overnight and blend to use it directly.
Here We Have Plotted Adai Dosa Recipe:
The overall Preparation time is five hours.

You need only 15 minutes of cooking time.

So, the total time required is five hours and fifteen minutes.

You will get six servings from this recipe.
Ingredients You Need For Batter:
Take one cup of dosa rice or Sona Masuri rice.

Take one-fourth cup of Toor Dal.

Take one-fourth cup of Chana Dal.

Take two tablespoons of Urad Dal.

Take two tablespoons of Moong Dal.

Take one-fourth cup of Methi Dana.

Take five Kashmiri Chillies (dried).
Moreover, the following ingredients are essential.
Chop two tablespoons of onion.

Finely chop two tablespoons of coriander.

Roughly chop one tablespoon of leaves.

Take one-half teaspoon of Ginger Paste.

Take one teaspoon of Jeera.

Take a pinch of Hing.

Salt to taste.

Take oil to roast.
Adai Dosa Recipe:
At first, you need to soak all your batter ingredients for at least five hours.

Once you have soaked your ingredients well, blend them with water as necessary.

Take a large bowl and transfer your blended batter into it.

Now, add chopped onion, coriander, leaves, and ginger paste.

Mix everything well but gently.

Add one teaspoon of cumin, a pinch of Hing, and salt to taste.

After adding all these ingredients, mix well.

Once you mix everything, check for its consistency. If you think it is thick, you can add more water to it.
Adai Dosa Steps:
After checking the consistency, pour batter on the Hot Tawa and spread with gentle pressure.

You require a teaspoon of oil on the Adai.

Let it cook on low and medium flame.

After a few minutes, change the side of the Adai and let both sides cook well.

Once cooked perfectly, fold your Adai and serve it with its coconut chutney. You can also use green chutney.

If you have tried this recipe at your home, you can let us know how it turned out to you.
Do You Want To Change The Recipe?
You can try substituting any one lentil. It won't affect the texture and the flavor if you know how to make it possible. We have listed a few tips you can consider to do some modifications to your recipe.

You can skip any lentils and add the same proportion of anyone lentils to keep the measured the same. Or else, you can try adding the rest of all lentils (the sum of all lentils = skipped one).

If you don't use red chilies, you can prefer green chilies or black pepper. However, green chilies will provide more flavor than pepper.

You can also try to add more proportion of rice than we have discussed. It will be more crispy and fluffy. You can let us know how it turns out for you.
Frequently Asked Questions:
Do you want to learn how to make Adai Dosa with a quicker process? In this section, we have listed all frequently asked questions with the shortest explanation.
How To Make The Dish More Healthier?
If you love leafy vegetables, you can include them of your choice. It consists of drumstick leaves and others. The Leafy Vegetables make the recipes more healthy and tasty.
While pouring your batter into the pan, do not forget that you need a slightly thick batter of Adai Dosa. It means do not try to spread thinner layer. The reason is that it includes onion that makes it difficult to make thinner layers.
Why Do You Need A Low Flame?
We told you that you have to keep the flame low to coom your Adai Dosa.

Adai Recipe

needs low Flame. The reason is it is a thick layer, and you have to let it cook from inside.
Anything that is prepared hot for a meal has to be served hot. So, you can Serve Adai Dosa hot with green chutney or peanut chutney, or coconut chutney.
Wrapping Up:
Did you enjoy this Adai Recipe Guide? In this tutorial, we have included everything you must know about Adai Dosa Recipe. We have included frequently asked questions to solve most of your queries regarding the best results you can get while making Adai Dosa at your home. If you still have any doubts, let us know.