11 Ideal Luxury Watch Brands For Men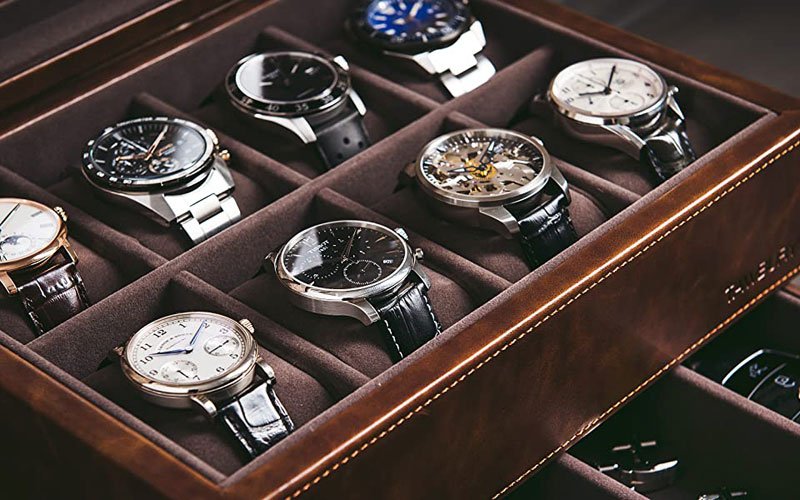 Are you looking for the perfect present to give your husband or father? Or are you looking for the best watch brands that cater to men? Regardless of whatever reason, this article will help you decide on which luxury watch brands you should buy. 
It's no secret that men are always captivated by the beauty of watches. Whether it's a classic analog timepiece or a modern digital smartwatch, it's a piece of accessories that is usual for men to collect. But with all the brands and models available today, which of those are the best timepieces for men? In this article, we will list down some of the most ideal timepieces for men to wear and collect.
Luxury Watch Brands For Men
One of the first things that you need to understand about luxury watches is that every brand has its unique character. While they are all made with high-quality materials and pristine engineering, each of them still has a distinct characteristic that separates them from the rest. Here are some of the luxury watch brands that you should check out.
1. Longines
Longines is known to be one of the Swiss pioneers in the watchmaking industry. Founded in 1832, these timepieces are designed for sports activities such as equestrian, diving, and aviation. The Longines watches men collection include a variety of designs and features that will fit men of all ages. Some of those are the La Grande Classique, Railroad, and Conquest. Each of these collections is equipped with high-performing features that every man will find useful.
2. Omega
Another timepiece brand that is designed for men is Omega. These timepieces are more popular because they were worn by Buzz Aldrin in his  journey to the moon. However, there's more to this watch than that. Omega is built with the highest performing resistance and mechanism that can survive extreme exposure to various elements. The Omega Speedmaster and Seamaster are applauded by both collectors and aficionados. This, indeed, is not only stylish but also a highly durable timepiece.
3. Chopard
Chopard may be popular to watch collectors because of their Happy Diamonds collection. However, this timepiece is also designed for athletic men who love to conquer the ocean, tracking fields, and racing events. Their timepieces are built with high-performing chronographs that are ideal to track your performance in these sporting activities. Moreover, they also designed a timepiece that is dedicated to racing events known as the Chopard Classic Racing collection.
4. Rolex
When you talk about watches for men, the very first brand that will surely come to mind is Rolex. Over the years, this Swiss timepiece is well known as the epitome of classic and elegant design. Aside from their collection of sophisticated timepieces, Rolex is also popular for its sports luxury watches such as the Cosmograph Daytona, Explorer, and Oyster Perpetual. Through the years, this timepiece has proven itself worthy to be part of your watch collection.
5. TAG Heuer
You cannot complete a men's watch collection without including TAG Heuer. This timepiece has been in the industry for more than 160 years and it has perfected manufacturing the best chronographs. If you are the type of man who loves to explore the outdoors, you might want to own a timepiece that can track 1/2000 of a second. High-performing chronographs are the pride of TAG Heuer watches, and it has since become their signature.
6. Frederique Constant
Another lowkey yet surely recognizable timepiece is Frederique Constant. Although fairly new in the industry, this timepiece has already become the favorite of many watch aficionados. They have classic and sophisticated timepieces for truly fashion-forward men. If you are looking to collect timepieces to wear on formal and highly fashionable occasions, you might as well start with this luxury watch brand.
7. Hugo Boss
Another high fashion timepiece that every man should consider buying is Hugo Boss. The high-end designer brand also released a couple of luxury watch collections under the brand's umbrella of designers. Although their timepieces are relatively cheaper compared to other luxury watch brands, you cannot deny the high allure of these timepieces.
8. Patek Philippe
Every watch collector is familiar with the brand Patek Philippe. These timepieces are considered one of the most expensive and valuable luxury timepieces in the world. This watch manufacturer still embraces the traditional handcrafted watchmaking, which makes each of their timepieces a limited edition. Because of that, Patek is known to be the star of various watch auctions with the highest amount sold to the highest bidder.
9. Montblanc
More popular for manufacturing high-end pens, Montblanc recently ventured into creating timepieces as well. Carrying their long-time tradition of producing innovative and daring pieces of luxury, Montblanc released a collection of timepieces that easily captured the heart of many men. Their watches are recognizably durable because of Maison's 500-hour testing scheme. This ensures that every timepiece they release will last for a long time.
10. Panerai
It's also important to include casual watches in your collection. In that way, you will always be ready to pair casual attire. One of the most admired Swiss watches with casual allure is Panerai. It has a uniquely designed dial that captures the attention of both collectors and aficionados. These timepieces are built with a highly functional mechanism that will surely last for a long time.
11. Emporio Armani
Another fashion brand that released a collection of luxury watches for men is Emporio Armani. Working under the realm of the Armani brand, these luxury watches are designed to match the signature aesthetic of its mother brand. Through the years, many fashionable men are wearing this timepiece. If you are looking for a luxury watch that will best fit your suit and formal wear, this brand is certainly for you.
Key takeaway
Regardless of whichever brand you end up choosing, what's important is you pick something you like, and something that has high value. Luxury watches are made to last for more than a lifetime, and you don't want to just leave them in the closet. Shop for more luxury watch brands at TheWatchShopping.com.